Canadian Tire
5402 Discovery Way

,

Leduc

,

AB

T9E 7L2
Directions
780-986-5229
Canadian Tire - Details
Located at 5402 Discovery Way near you, Canadian Tire is a local business in the automobile repairing & service category of Canpages website.
Phone 780-986-5229 to get in contact with Canadian Tire that is located in your neighbourhood. Get the directions to 5402 Discovery Way from your location. Or, simply add this company to your business favorites list.
Finally, you can send this to your friends by clicking on Facebook or Twitter links. It's also possible to save this business information to your Outlook contacts.
Opening Hours
Please call 780-986-5229 for opening hours.
Products and Services
Accessories And Service
Automotive Parts
Leisure And Home Products
Sports
Brands Carried
Blue Planet
Broadstone
Debbie Travis
Jobmate
Mastercraft
Motomaster
Noma
Simoniz
Yardworks
Categories
Canadian Tire - Deals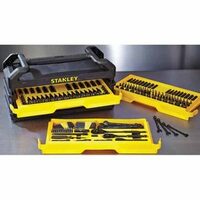 Stanley Black Chrome Blitz Box, 230-Pcs - $129.99 (65% Off)
Stanley Black Chrome Blitz Box provides you with everything you need to get the job done. Durable black chrome finish which provides rust and corrosion protection. Laser-etched, easy to read markings allow for quick tool identification. Easy organization and transport. Includes 230 pieces.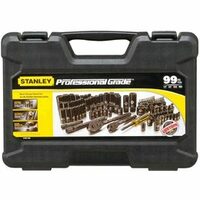 Stanley 99-Pc Professional Grade Socket Set - $59.99 (70% Off)
Socket set includes ¼" and 3/8" ratchets, sockets and accessories. Laser-etched sockets feature a durable black chrome finish. Includes metric and SAE accessories. Meets or exceeds ANSI recommendations for hardness and torque.
Stanley 122-Piece Professional Grade Black Chrome Socket Set - $69.99 (70% Off)
Socket set features durable black chrome plating that provides improved rust resistance. Laser-etched, high-contrast, easy-to-read markings. Meets or exceeds ANSI specifications for hardness and torque. Max-Drive spreads force over a larger contact area to extend the life of fasteners. Includes 1/4 and 3/8" drive ratchets and accessories.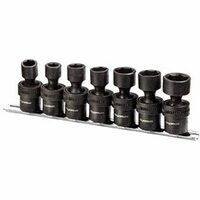 Maximum 7 Piece Sae Socket Set - $19.99 (60% Off)
7 Piece 3/8" Drive Swivel Impact Socket Set features a swivel base for a greater flex angle for improved access and speed. Anti-rounding radius corners for better fastener contact. Durable chrome-molybdenum steel construction stands up to the demands of high-force impact drivers. Spherical ball design distributes torque loads evenly. Sizes include 3/8, 7/16, 1/2, 9/16, 5/8, 11/16, and 3/4.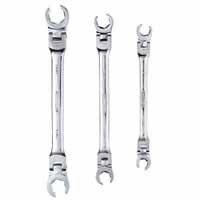 Mastercraft 3 Piece Flex Flare Nut Wrench Set - $14.99 - $24.99 (50% Off)
3 Piece Flex Flare Nut Wrench Set features a 180 flex action head that allows you to reach into the tightest places. Drop forged chrome vanadium steel for greater performance and durability. Fully polished, chrome nickel plated for easy maintenance. Meets ANSI standard and stringent CTC quality criteria. Available in SAE and Metric sizes: SAE- 3/8 x 7/16, 1/2 x 9/16, 5/8 x 11/16 and Metric- 9 x 11, 10 x 12, 13 x 14 mm.
featured businesses for Automobile Repairing & Service around me
Featured businesses for Automobile Repairing & Service around me
Canadian Tire 5402 Discovery Way, Leduc, AB

T9E 7L2

Central Import Automotive Service Inc 472 King St E, Toronto, ON

M5A 1L7


Distance -

2.3 km

New Veer Preet Service Centre Inc 6559 Airport Rd, Mississauga, ON

L4V 1E5


Distance -

20.5 km

Performance Worx 8C-325 Weston Rd, York, ON

M6N 4Z9


Distance -

7.9 km

Vamp Automotive Inc 4-100 Turbine Dr, Toronto, ON

M9L 2S2


Distance -

19.0 km

AML Auto Service 126 Laird Dr, East York, ON

M4G 3V3


Distance -

6.8 km

Kevin Oneill 3327 Dundas St W, Toronto, ON

M6P 2A6


Distance -

7.9 km

Deer Park Auto Service 40 Coulson Ave, Toronto, ON

M4V 1Y5


Distance -

5.2 km

Mr Pat's Automotive 22 Belvia Rd, Etobicoke, ON

M8W 3R3


Distance -

12.5 km