Canadian Tire
1 Hospital St

,

Fort McMurray

,

AB

T9H 5C1
Directions
780-791-6400
Canadian Tire - Details
Opening Hours
Please call 780-791-6400 for opening hours.
Categories
Canadian Tire - Deals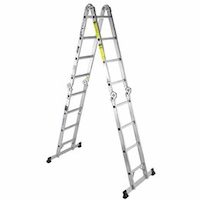 Mastercraft Aluminum Articulating Ladder, 17' - $139.99 ($100.00 Off)
Mastercraft Aluminum Articulating Ladder is a 17' multi-position ladder that can be used for a variety of jobs. Ladder transforms to 8 different positions, including 8' step ladder, 8' and 17' straight ladder, stairway scaffold, and many other positions for use in tight spaces. Easily folds into a compact position for simple storage in a closet or trunk. Wide base makes for added stability. CSA grade 1. Ladder has a 250 lbs. capacity.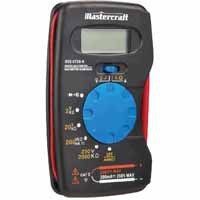 Mastercraft Digital Multimeter - $9.99 (75% Off)
Digital Multimeter provides six functions with AC/DC voltage, AC current, resistance, diode and continuity test. Attached test leads to avoid losing leads.
Danze Melrose Pull-Out Nickel Kitchen Faucet - $99.99 (50% Off)
Danze Melrose Pull-Out Kitchen Faucet features a stylish, brushed nickel finish, perfect for your kitchen decor. Features dual function spray head, for your choice of spray or aerated stream. EZ ConX hose connection makes installation easy, and includes sply line.
Autoranging Digital Multimeter - $19.99 - $23.99 (60% Off)
Full autoranging multimeter, 8 functions and 28 ranges with auto power-off after 30 mins. DC voltage - 4V, 40V, 400V, 1000V. AC voltage - 4V, 40V, 400V, 750V. DC current - 400µA, 40mA, 400mA, 4A, 10A. Resistance - 400, 4k, 40k, 400k, 4M, 40M. Diode test. Continuity beeper. Temperatue 0 to 1000 degrees Fahrenheit (#0520037 probe not included). Transistor test. Digital display size is 25mm, requires 1 AAA battery - not included.
Danze Bravo Brushed Nickel Pull Out Kitchen Faucet - $94.99 (50% Off)
Bravo kitchen faucet with dual function pull out wand that has a stream and spray function. Fits one or three hole kitchen sinks. Faucet has a drip-free ceramic cartridge. Includes EZ-ConXTM water supply lines for easy installation. Features a brushed nickel finish.
featured businesses for Automobile Repairing & Service around me
Featured businesses for Automobile Repairing & Service around me
Canadian Tire 1 Hospital St, Fort McMurray, AB

T9H 5C1

JDM Auto Parts Inc 158 Toryork Dr, North York, ON

M9L 1X6


Distance -

18.4 km

Ahon Auto Parts 2405 St Clair Ave W, Toronto, ON

M6N 1K9


Distance -

8.1 km

A & A Bumper & Fender Ltd 1111 Finch Ave W, North York, ON

M3J 2E5


Distance -

15.0 km

Luxury European Auto Parts Inc 125 Union St, Toronto, ON

M6N 3N4


Distance -

7.5 km

Penn Auto Parts 4A-128 Manville Rd, Scarborough, ON

M1L 4J5


Distance -

11.9 km

Consumer Auto Parts Inc 2562 St Clair Ave W, York, ON

M6N 1L7


Distance -

8.6 km

Nalain Pak Canada Private Ltd 338 Queen St E, Brampton, ON

L6V 1C4


Distance -

29.3 km

Ultimate Transportation Products 23 Markwood Lane, Thornhill, ON

L4J 7A6


Distance -

18.8 km

Undercar Auto Parts 644 Magnetic Dr, North York, ON

M3J 2C4


Distance -

16.7 km

Global Auto Parts 4000 Steeles Ave W, Woodbridge, ON

L4L 4V9


Distance -

18.9 km