Starbucks
5-10370 82 Avenue NW

,

Edmonton

,

AB

T6E 1Z8
780-434-3225
Starbucks - Details
Opening Hours
Monday 6:00 am - 10:00 pm
Tuesday 6:00 am - 10:00 pm
Wednesday 6:00 am - 10:00 pm
Thursday 6:00 am - 10:00 pm
Friday 6:00 am - 11:00 pm
Saturday 6:30 am - 11:00 pm
Sunday 7:00 am - 10:00 pm

Products and Services
Coffee
Espresso
Latte
Tea
Hot Breakfast
Barista
Iced Coffee
Café
Coffee Shop
Coffeehouse
Whole Bean Coffee
Snacks
Cappuccino
Bakery
Restaurant
Drinks
Gifts
Sandwiches
Lunch
Features
Restaurant With Wifi Internet
Wifi
Wi-fi
Food
Rates
Restaurant Type
Categories
Starbucks - Deals
Starbucks: Get FREE Coffee or Tea in January When You Buy a $49.95 Tumbler!
Drink nothing but Starbucks for an entire month with this offer from Starbucks, because you can get a FREE drink every day in January 2017 when you buy a Starbucks Coffee & Tea Refill Tumbler for $49.95!
The tumbler holds 16 fl oz, which is equivalent to a grande-sized beverage and you'll break even after 22 drinks as a grande beverage is regularly $2.36. That gives you nine days of free brewed coffee or tea, assuming you get a drink every day in January.
There's a limit of one free drink per day, but you aren't tracked for how many drinks you get in a day. Customizations (like flavour shots) are extra while Starbucks Reserve coffee and Teavana Oprah Chai Tea are excluded from this offer.
If you're a Starbucks aficionado and can't go a day without it, this is definitely a worthwhile purchase and also makes a neat gift idea for Starbucks addicts as the tumbler is reusable.
This offer is available for a limited time only. Starbucks.ca offers free shipping on orders over $75.00 or a flat-rate fee of $7.95 on orders below that threshold.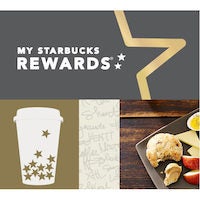 Earn Free Food And Drinks With Starbucks Rewards
Turn your Starbucks Card into a Rewards Card to earn free food and drinks. Sign up for the loyalty program My Starbucks Rewards to get:
Free drink or food rewards (some restrictions apply)
Custom offers on items you enjoy when you opt in to receive for My Starbucks Rewards® email
Early access to new products
Easy payment with our mobile app
You can also join from the Starbucks App. For more information, visit
My Starbucks Rewards
.
featured businesses for Coffee Shops, Cafes & Espresso Bars around me
Featured businesses for Coffee Shops, Cafes & Espresso Bars around me