Penningtons
200 Mayfield Common NW

,

Edmonton

,

AB

T5P 4B3
Directions
780-489-2851
Penningtons - Details
Located at 200 Mayfield Common NW near you, Penningtons is a company included in the women's apparel - retail category of Canpages website.
Please call 780-489-2851 to get in touch with Penningtons that is in your neighbourhood. Get the directions to this business from your location. Or, simply add this company to your business favorites list.
Finally, you can send this page to your friends by accessing Facebook or Twitter links. It's also possible to save this business information to your Outlook contacts.
Opening Hours
Please call 780-489-2851 for opening hours.
Categories
Penningtons - Deals
Lace Detail Tank Top - $34.99 ($10.01 Off)
Stylish sleeveless plus size top with lace detail at sides and keyhole button opening at back. A chic and feminine top that's perfect for your desk-to-dinner outfits!
Metallic Sheer Button Down Blouse - $24.99 ($20.01 Off)
Elegant button down blouse in gauzy crepe featuring shirt collar, long sleeves with button cuffs, one chest pocket and a chiffon border at bottom with slits. Metallic effect gives a festive feel to your outfit.
Sequin Tank Top - $34.99 ($10.01 Off)
A sequined tank top is a stylish, versatile piece to mix into your wardrobe. Tank top features spaghetti straps and allover sequins. Pair it with a cardigan or a blazer for a elegant look. Dress it up or down for a day-to-night look that shines.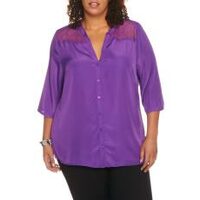 Lace Yoke Button-Down Blouse - $29.99 ($12.01 Off)
Plus size button-down blouse with feminine lace yoke and 3/4 sleeves is perfect for day or night wear.
Lurex Sweater - $39.99 ($15.01 Off)
Glittery sweater features scoop neckline, 3/4 sleeves with dropped shoulders and metallic lurex thread creating a nice festive touch. 27-inch length. Wear it with your favorite jeans or with dress pants: it's perfect for shimmering from day to night!
featured businesses for Women's Apparel - Retail around me
Featured businesses for Women's Apparel - Retail around me
Penningtons 200 Mayfield Common NW, Edmonton, AB

T5P 4B3

Coats By Mary Ellen Leather Repairs Division 951 Wilson Ave, North York, ON

M3K 2A7



Images That Suit Limited 145 Front St E, Toronto, ON

M5A 1E3



The Answer 2715 Yonge St, Toronto, ON

M4N 2H8



Aria Boutique 686 College St, Toronto, ON

M6G 1C1



Sexyplus Clothing 901 Yonge St, Toronto, ON

M4W 2H2



Living2 1766 Avenue Rd, North York, ON

M5M 3Y9



Jexy & Jax Canadian Clothing 375 Danforth Ave, Toronto, ON

M4K 1P1



Rina's Boutique 248 Steeles Ave W, Thornhill, ON

L4J 1A1



Tryst Lingerie 465 Eglinton Ave W, Toronto, ON

M5N 1A7



Shopgirls Gallery Boutique 1342 Queen St W, Toronto, ON

M6K 1L4



Gittas Stitches 203-7 Pleasant Blvd, Toronto, ON

M4T 1K2