A&W Restaurants - Crowfoot
80 Crowfoot Way NW

,

Calgary

,

AB

T3G 4C8
Directions
403-239-8896
A&W Restaurants - Crowfoot - Details
Located at 80 Crowfoot Way NW in Calgary, A&W Restaurants - Crowfoot is a local business part of the restaurants section of Canpages website.
Please call 403-239-8896 to get in contact with A&W Restaurants - Crowfoot that is located in your neighbourhood. Get the directions to 80 Crowfoot Way NW from your location. Or, simply add this merchant to the business favorites list.
Finally, please send this page to your friends by clicking on Facebook or Twitter links. It's also possible to save this business information to your Outlook contacts.
Opening Hours
Please call 403-239-8896 for opening hours.
Categories
A&W Restaurants - Crowfoot - Deals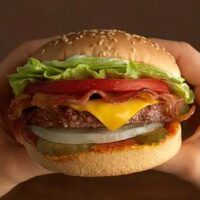 $3 Teen Burger for a Limited Time at A&W
Short and sweet -- (and delicious), A&W has dropped the price of the popular Teen Burger to just $3 for a limited time. Though there's a 2 for $5 coupon floating around right now, this isn't a bad deal if you can't finish two or don't feel like spending that much on lunch. Average price is probably between $4-5 so here's your chance to get one at a nice discount which you can put towards future Teen Burgers. Not bad if you ask us!
The deal is live now but only for a limited time. If you're looking for another lunch option, keep this one in mind!
To find the A&W nearest you, check out the Store Locator here.
featured businesses for Restaurants around me
Featured businesses for Restaurants around me
A&W Restaurants - Crowfoot 80 Crowfoot Way NW, Calgary, AB

T3G 4C8

Red Lobster 790 Burnhamthorpe Rd W, ,

Red Lobster 319 Bayfield Street Barrie, ,

Bairrada Churrasqueira 1002 College St, Toronto, ON

M6H 1A7



Bardi's Steak House 56 York St, Toronto, ON

M5J 1S8



Churrasco Of St Clair - The Best Chicken In The City 679 St Clair Ave W, Toronto, ON

M6C 1A7



Yumei Sushi 2116 Queen St E, Toronto, ON

M4E 1E2



Vegetarian Haven 17 Baldwin St, Toronto, ON

M5T 1L1



Wise Guys 2301 Danforth Ave, , ON

M4C 1K5



Golden Wok Restaurant 120 Eringate Dr, Etobicoke, ON

M9C 3Z8



BPC Best Portuguese Chicken 942 The Queensway, Etobicoke, ON

M8Z 1P4



KI Restaurant & Lounge 181 Bay St, Toronto, ON

M5J 2T3